Gail Kim Biography
Gail Kim was born on February 20, 1976 in Toronto, Ontario. She is a Korean-Canadian professional wrestler and valet as well as an actress.
Biography and Career :
She is best known for her appearances with World Wrestling Entertainment between October 2002 and November 2004. Gail Kim is currently working for Total Nonstop Action Wrestling.
She attended the York Memorial Collegiate Institute in Toronto, partaking in numerous sports and twice being named "Athlete of the Year". Upon her graduation, she began studying kinesiology at the University of Toronto, but later switched to nutrition at Ryerson University.
After obtaining her degree, Gail Kim decided to become a professional wrestler, and joined Ron Hutchison's "School of Pro Wrestling" in Toronto, receiving suppleme
ntary training from Rob Etchevarria at the "Squared Circle Pro Wrestling Gym".
She debuted in December 2000 under a mask as "The Queen of the Cats" La Felina in the Southern Ontario-based Apocalypse Wrestling Federation, and was eventually unmasked by Tracy Brooks in a "mask versus hair" match.
Gail Kim worked on the Canadian independent circuit for two years, wrestling for promotions such as Border City Wrestling. On September 27, 2002, Kim reached the semi-finals of the WXW Women's Elite 8 Tournament in Danbury, Connecticut, defeating Nikki Roxx and April Hunter before losing to Tracy Brooks.
Gail Kim in World Wrestling Entertainment :
She was introduced to World Wrestling Federation employee Molly Holly by Jason Sensation at WWF Fan Axxess in 2001, and gave Holly a videotape of herself to show to WWF officials. In October 2002 Gail Kim was hired by the WWF, now renamed World Wrestling Entertainment.
Gail Kim spent eight months training in Ohio Valley Wrestling and appearing on house shows and dark matches before being called up to the main roster in June 2003. After several weeks, during which vignettes showcasing Matrix-like effects aired on WWE RAW, Kim debuted on the June 30 episode of RAW as a face, with a Matrix-like gimmick including shades and a long trench coat, using her real name.
Her first televised WWE match was a seven-woman battle royal, with the WWE Women's Championship, then held by an injured Jazz, on the line. Gail Kim won the match, lastly eliminating Victoria, in the process making history for the quickest acquisition of the title by any female. Gail Kim held the title for four weeks, feuding with Victoria and Molly Holly. Gail Kim lost the title to Molly Holly on the July 28 episode of RAW. On the August 4 episode of RAW, Molly Holly successfully defended her title in a match with Trish Stratus. Following the bout, Stratus was double teamed by Holly and Victoria until Kim ran to the ring. Gail Kim helped Stratus up, but then turned heel by levelling Stratus with a spinebuster.
Gail Kim forged an alliance with Holly, and the duo defeated Stratus, partnered with Ivory and Jacqueline, on two straight occasions. The following week, on the September 15 episode of RAW, they defeated Stratus in a handicap match. Following the match, Kim and Holly were prevented from further assaulting Stratus by the returning Lita, who had been absent since injuring her neck in 2002. At Unforgiven 2003 on September 21, Stratus and Lita defeated Gail Kim and Holly in a tag match. The four women continued to feud until November 10, when Gail Kim was sidelined with an injury to her right collarbone.
She returned to RAW on April 5, 2004 and immediately reforged her alliance with Holly. Gail Kim adopted a new submission-based offensive technique and dubbed herself "wrestling's submission specialist". At Bad Blood on June 13 she faced Lita, Stratus and WWE Women's Champion Victoria in a title match which was won by Stratus. Gail Kim competed in the women's division, receiving several more shots at the title (including a battle royal on October 19 at Taboo Tuesday) before being released by WWE on November 3, 2004 (This came somewhat unexpectedly, given that she had appeared on RAW just two days earlier, attacking Lita along with Stratus following a confrontation between the two).
Following her release and the expiration of her ninety-day no-compete clause, Gail Kim made sporadic appearances on the independent circuit, wrestling matches in Mexico, Japan and South Korea. Gail Kim posed for several magazines, and appeared topless in a mobile phone advertisement.
Total Nonstop Action Wrestling :
Gail Kim with America's Most Wanted , raising the NWA World Tag Team Championship. On September 6, 2005, Total Nonstop Action Wrestling announced that they had signed Gail Kim to a contract. In the meantime, Gail joined the International Assault tour of Australia.
On the October 8, 2005 edition of TNA iMPACT!, Gail Kim made her debut, aligning herself with Jeff Jarrett and America's Most Wanted by attacking Team 3D. Shortly thereafter, she helped AMW regain the NWA World Tag Team Championship from The Naturals. On November 26, Kim was attacked by the debuting Jackie Gayda. She spent the remainder of the year and early 2006 filming her part in the film "Royal Kill" before returning to TNA and rekindling her feud with Gayda.
Between February and April 2006 Kim was the guardian of Jackie Gayda, who had been blackmailed into joining the Planet Jarrett stable. The two woman frequently fought one another during matches featuring members of Planet Jarrett as Gayda attempted to cost them the match. Gayda was "fired" by Kim at TNA Sacrifice 2006 on May 14, 2006 after announcing that she was pregnant.
On May 15, 2006 in Orlando, Florida, Gail Kim wrestled Traci in a dark match to be featured on the TNA Knockouts DVD. The match was the first women's match in TNA in over a year, and Kim's first match on American soil since her WWE release.
Gail Kim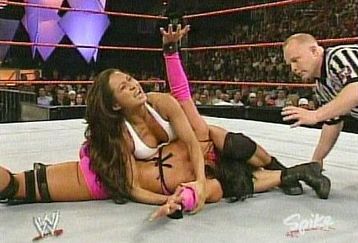 Gail Kim
Gail Kim
Gail Kim
Gail Kim
Gail Kim
Gail Kim
Gail Kim
Gail Kim
WWE Superstars: Gail Kim vs. Katie Lea
WWE Raw 01/24/11 The Bella Twins, Gail Kim & Daniel Bryan Backstage Segment