Brie Bella Biography
Brie Bella is a professional wrestler and is one half of the tag-team Bella Twins. They both currently wrestle in the Raw brand after being drafted as part of the 2009 WWE Supplemental Draft.
Personal Life and Early Career
Brie was born on November 21, 1983 in San Diego, California. Her full name is Brianna Bella. She was raised in Scottsdale, Arizona with her sister and played soccer until college. She is of mixed Italian and Mexican descent.
Before taking a career in professional wrestling, Brie worked as a model, actress, and promo girl along with her sister, Nikki. Both of them were also seen in the reality TV show, Meet My Folks. They then proceeded to make an appearance in the World Cup Twins for Budweiser. She also participated in the "International Body Doubles Twins Search" in 2006.
Pro Wrestling Career
The twins soon set their sights to pro wrestling. In 2006, Brie took on the challenged and participated in the WWE Diva Search but was cut. They were, however, signed to developmental contracts by the WWE and were sent to the Florida Wrestling Championship (FCW) in Tampa, Florida for training. At FCW, they were dubbed as The Bella Twins and were put in a program against Victoria Crawford and Nattie Neidhart, daughter of Jim "The Anvil" Neidhart. During their matches, if one of them was hurt, the other twin would then take on the place of the hurt twin behind the referee's back. Brie would also wrestle in mixed tag matches with male wrestlers such as Robert Anthony and Kofi Kingston.
Brianna debuted in SmackDown on August 29, 2008 as a singles wrestler named Brie Bella and would pick up a win against Victoria. She began a feud against Victoria and her tag partner, Natalya (Nattie Neidhart) and competed in a series of matches against the two. During the matches, Brie would roll out of the ring and go underneath it when the odds would go up against her then she would reappear and win the match. This gimmick would go on several times until both Victoria and Natalya dragged Brie and her twin Nikki from where they were hiding, revealing their tactic. Nikki and Brie would then compete as tag team wrestlers after their deception was revealed.
Brie Bella (Brianna Garcia) Biography Their partnership would soon be tested as they entered in a program with feuding tag teams The Colons and Morrison and The Miz. Morrison and Miz initially won a date with the Bella Twins but The Colons disguised as waiters and sabotaged the date. Both tag teams then started fighting over the affections of the Twins. The Twins eventually broke up as Nikki sided with Miz and Morrison after she laughed at Brie after the Colons accidentally spat an apple on her. Brie would then get the upper had first, as she beat her twin in a 6-person inter-gender match in a SmackDown episode. Nikki then leveled the score when she pinned Brie in a singles match. Their spat was short-lived as the Twins were moved to Raw as part of the Supplemental Draft and began competing there as a tag team once more.
Real Name: Brianna Garcia
Date of Birth: November 21, 1983
Brie Bella
Brie Bella
Brie Bella
Brie Bella Photos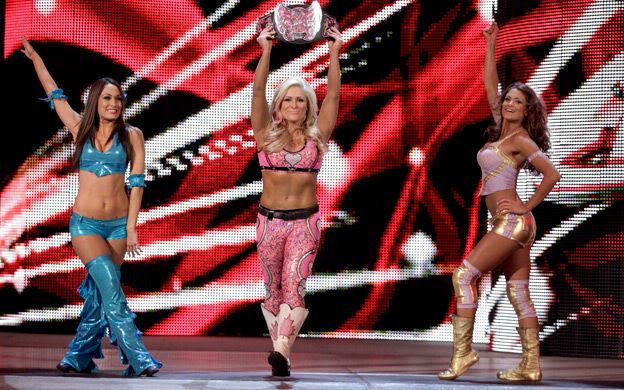 Brie Bella
Brie Bella
Brie Bella
Brie Bella
Brie Bella
WWE Smackdown vs Raw 2011 - Brie Bella Entrance
WWE.Raw.01.04.10.Maryse.vs.Brie.Bella.